Having multiple children of different ages can present some complications when you need a stroller to get around, but more than one of them needs a ride. Side-by-side double strollers are big, bulky, and bigger kids can often find them uncomfortable as they are not always meant for them. There is always the option to have two separate strollers, which, if you have another adult with you at all times, can work. However, trying to drive two strollers at once when you are alone can be frustrating and just about impossible. Not to mention the amount of trunk space that you will need to drive two strollers around everywhere is huge.
If you have a newborn or young baby but also a toddler that is active but gets tired after too long on their little feet, your best option may be a sit and stand stroller. Sit and stand double strollers are ingenious contraptions that allow you to push your baby while secured in their seat but also allow you to give your other child a convenient and easy push around to get around quickly and give them a break. If you are shopping around for the best sit and stand double stroller for 2022, this convenient guide will go over some of the best options available on the market in various price ranges.
Top 10 Cheapest Sit and Stand Strollers this 2022
Graco Uno2Duo Stroller
Is there such a thing as too many options when it comes to a tandem sit and stand double stroller? The Graco Uno2Duo has so many different possibilities you are sure to find more than a few that will be your go-to for traveling with your baby and older child. If you aren't sure which setup will work best for your family when considering sit and stand strollers, this selection takes care of that by giving you eight configurations for both rear and forward-facing options that all allow for another child to tag along for a ride while standing.
Pros
Can use infant car seats
Fully reclines in both directions for comfortable naps on the go
Cons
An additional child can only stand
There is no sitting option
Joovy Caboose Ultralight Graphite Stroller
A lightweight double sit and stand double stroller that comes in at just over 20 pounds, the Joovy Caboose Ultralight Graphite Stroller comes in seven different color schemes for your family to choose from. The stroller offers a smooth ride and a large canopy to block out the sun when it's at its hottest. If you have a toddler that wants more comfort and support, you can purchase an additional full seat for the stroller until they are ready to sit or kneel on the bench or stand.
Pros
Smooth ride
Attractive colors
Lightweight and compact
Cons
Pricier than other sit and stand options
Less padding on seats than other brands
Graco Room for 2 Stand and Ride Stroller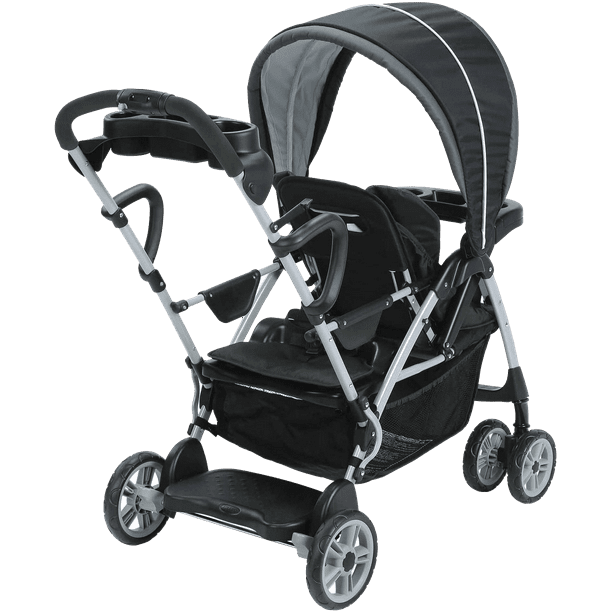 This model from Graco is a functional and basic sit and stand stroller with an option to allow the younger child to sit in an infant car seat or recline back fully for comfort in the stroller seat. There is an ample standing platform for the older child and a padded bench seat when they want to rest their legs. Unique and comfortable handlebars for the older child to maintain their balance when seated or standing.
Cons
Some complaints of squeaky wheels
Can take up more space than comparable lightweight options
Baby Trend Sit N' Stand 5-in-1 Shopper Plus
This is a versatile sit and stand tandem double stroller for a baby and toddler combination. It features comfortable padded seating and plenty of space to store your belongings in the large under ride storage basket. With five easy-to-use configurations, you can switch this stroller to meet your family's needs.
Pros
Ample storage
Comfortable seating
100-pound overall weight capacity
Cons
Heavy for a basic sit and stand double stroller
Smaller stand platform
Joovy Big Caboose Graphite Triple Stroller
When many parents are considering a sit and stand stroller, most of your options will accommodate only two children, but what if you have twins or two little ones that are still very small and another toddler that still needs to travel by stroller. The Joovy Big Caboose is a big sit and stand stroller for 3 and triple the fun. With two seat options and configurations and a sit and stand option for an additional child, there is plenty of space for your big family.
Pros
Plenty of storage
Compatible with most infant car seats
Cons
Combined sit and stand stroller for 3 passenger weight limit of 125 pounds
May not fit all trunk spaces
Chicco Bravo for 2 LE
This stroller accommodates an infant car seat, provides an infant insert and padded seating for the child that will sit and stand in the rear. The ride is comfortable for both children and you can switch from seating to standing in just an instant by folding up the seat. A major plus is the large rubber tires, which will make the stroller smooth and easy to push, versus the plastic tires, which can be clumsy and get stuck on obstacles in your path.
Pros
Comfort
Easy to fold
Smooth ride
Cons
Heavy
Lower passenger weight capacity with a 40-pound limit
BabyTrend Sit N' Stand Ultra Stroller
Baby Trend Sit N Stand Ultra Stroller, Millennium
amazon.com
Check price
Accommodates up to 2 children sitting in stroller seats, up to 2 in infant car seats,(sold separately) or one sitting and one standing
Stroller allows your older child to stand on the rear platform...
With a trendy gray and black colored combination and a plush seat, this is an economical stroller for families that want to provide a comfortable option for their children. The sit and stand stroller is compatible with infant car seats and allows for another child weighing up to 50 pounds to sit or stand as you move. The stroller offers convenient storage options with a large under basket and plenty of cupholders for kids and parents.
Cons
Very heavy, coming in at 27 pounds
Baby Trend Sit N' Stand Sport Stroller
If you are looking for a basic, functional, and affordable sit and stand configuration for your baby and toddler, then the Baby Trend Sit N' Stand Sport model is the stroller for you. At a low-cost price point and coming in a bright red color to stand out amongst the sea of strollers at popular children's attractions, this is a fun and affordable option for families looking for a day-to-day stroller ride.
Pros
Low cost
Lightweight and compact
Cons
A child cannot sit when the infant car seat is installed
Graco Ready2Grow
The Graco Ready2Grow is a great option for families that are going through different stages with their children. The stroller provides four options for tandem carrying, including multiple baby seats, two stroller seats, a sitting option, and a stand option for a toddler or older child. If you have a baby and young toddler who may not yet be ready for the sit and stand double stroller configuration, this could be a great choice that will transition with your children and have the ability to adapt as your family's needs change and your little ones grow.
Pros
An older child can choose to sit or stand
Can hold two infant car seats if needed
Compact folding for easy storage
Baby Jogger City Mini 2 + Gliderboard
This compact and lightweight sit and stand stroller with car seat function is a great option that can grow with your baby. It allows you to secure your Baby Jogger infant car seat or Baby Jogger travel bassinet with little effort for ease of travel and transition from the road to the streets. As your baby grows, they can use the padded seat option with a UV-protected shield for everyday stroller travel. Baby Jogger allows parents to purchase additional accessories and options to customize the stroller to their needs. While a stand option does not come standard with the stroller, parents can purchase the easy-to-install Baby Jogger glide board for a fun and convenient standing ride for another child.  
Pros
Durable
Portable and lightweight
Takes up little space
Cons
Must purchase stand option separately
A child can only stand on the glide board
Pick the Best Sit and Stand Double Stroller for Your Little Ones and Your Budget
While there are not many brands that make sit and stand double strollers, there are various models and configurations to meet the needs of growing families like yours. Consider what your family needs now and even what you may need in the future. A quality sit and stand stroller can last for many years as your family grows and the needs of your children change. Use this guide to narrow down your choices and pick the cheapest and best quality sit and stand stroller with a car seat (or without) for your family.
Post ID: zRzzBAE1e
Category ID: WMweqnb
The responses below are not provided, commissioned, reviewed, approved, or otherwise endorsed by any financial entity or advertiser. It is not the advertiser's responsibility to ensure all posts and/or questions are answered.