Almost all parents will experience their child having a fear of the dark at some point. This common fear is only natural for many young children as their imaginative abilities expand before their abilities to separate fantasy from reality. 
Luckily, there are plenty of ways to help your child overcome their fear of the dark. We'll discuss 5 of the most helpful and how to implement them.
Listen to Your Child
Many parents are quick to dismiss a child's fear of the dark. The dismissal may not even have bad intentions, but it can actually make the situation worse. Instead of brushing off what your child says about the fear, listen to what they say.
Ask Your Child About What Scares Them
Start by asking your child what it is about the dark that is causing the fright. The cause of the fear could be something like a scary shadow, or it could be a more abstract fear that monsters will come in the dark.
Instead of telling your child that monsters are not real or to just go to sleep, listen to what they tell you. Then, express empathy and understanding based on what they tell you. If your child tells you that they are scared of the dark corner, you might tell them that it must not be a very good feeling to have.
While you do not want to validate any specific fears, such as the idea that there is a monster in the corner or under the bed, you do not want to make your child feel as if they are not experiencing valid emotions.
Understand Where the Fear May Come From
When you are asking your child about why they are afraid of the dark, you might actually get answers that surprise you. Children are very perceptive and impressionable, and they may see something on TV or in a movie that scares them.
Again, be careful not to dismiss your child. Saying that "it was just a movie" does not always have the comforting effect you think it does. Logic can be difficult for young children to grasp onto. 
Acknowledge the Fear Without Supporting It
While it is difficult to strike the right balance between making your child's feel heard and not playing into the fear, it is an important concept to keep in mind. For instance, many children are scared of the dark out of a fear that monsters will "get" them.
Parents often use tactics like looking under the bed, using "monster repellant spray," or scaring the monsters out of the room. These actions have good intentions, but they can also reinforce the idea that the child has a valid reason to be afraid. 
Looking under the bed to check for monsters can teach your child that there is a monster to be feared. The child may feel reassured that there is not a monster at that moment, but they may still expect a monster at another time. 
Provide Your Child with Comforting Items
Generally speaking, it is best to try getting your child over their fear of the dark by addressing the problem directly, but you may find that providing security or comfort items can help. Be cautious, however, to make sure that you do not place too much reliance on such items.
Use a Night Light
For some children, a small night light can help alleviate some of the fears that come with the dark. Others may feel increased fears if the night light creates more shadows, but it is often worth a try. 
Opt for a night light that has a soft, warm tone. Cool and blue tones for night lights can disrupt proper sleeping patterns. You can use a typical night light that you plug into a wall socket, but you can also try:
Glow in the dark stickers for the walls or ceiling
A light-up object such as a ball or globe
Remember not to let your child become too reliant on a night light. It should be a temporary solution while you help them become braver during the night, not a permanent fix.
Offer a Security Object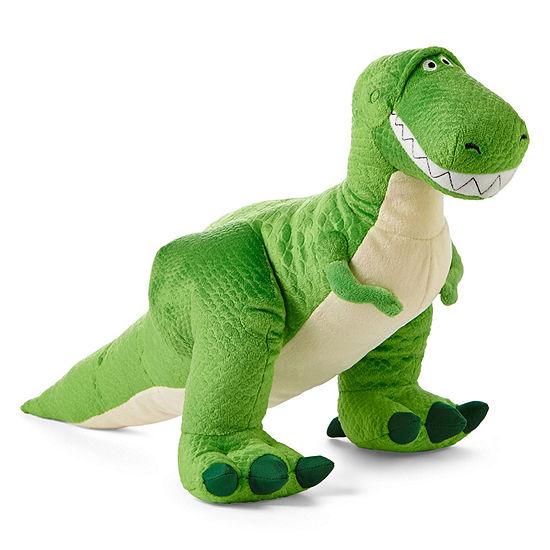 Disney Collection Rex Medium Plush
jcpenney.com
Check price
He's really very timid, but Rex the dinosaur from Toy Story has found the courage to give big soft hugs to all his new friends.
Disney Collection only at JCPenney
soft premium plush with detailed s...
It is very common for children to have certain belongings that naturally make them feel safe. This is a classic attachment that children have developed for ages. While it may seem unhelpful to you as an adult, these objects can be very helpful for children.
Some security objects could be:
A favorite stuffed animal to cuddle up with
A specific blanket that is comforting
Certain toys 
If your family has pets, allowing them to sleep in your child's room may also be a helpful thing to try. Just be sure that the pet will not be a disruption or cause more problems, such as keeping your child awake to play. 
Be Reassuring to Your Child and Do Check-Ups
It can be tempting to stay in your child's room until they fall asleep, but this can cause more problems instead of harm. It can result in:
Your child's reliance on your presence any time sleep is needed
Avoidance of the fear's actual causes
Deep, unhealthy attachment issues
Some children also take a very long time to fall asleep, which can be disruptive for the whole family. Avoid staying with your child until they fall asleep unless the fear is extreme. Try not to stay in your child's room multiple nights in a row.
Instead of staying in your child's room, reassure them that you are close by and will make sure that they are safe. Ask your child if it would be helpful for you to come check in at certain intervals. 
If your child wants you to check in periodically, start with doing a quick check-in every five minutes until your child is asleep. As your child adjusts to this period, you can gradually extend it to ten minutes, then 15, and then 20, or however many is needed.
These reassuring check-ups might take a while to ease your child's fear, so do not expect the fear to be gone after one night of checking in on your child. Some children might adapt that quickly, but everyone is different. 
Be Careful with What Your Child has Access to
Movies, TV shows, and even simple conversations can have huge influences on children. Even if they do not understand the situation completely, they may pick up on certain things that can then become scary. 
Monitor what your child watches, especially if there are older siblings who might watch content or play video games that are not age appropriate. This can also extend to content on tablets or cell phones.
Create a limit on how late your child has screen time to make sure that their brain does not get overactive and too imaginative. Instead of screens, you might opt for bedtime stories that are lighthearted and relaxing.
Final Thoughts on Helping Your Child Who is Afraid of the Dark
Ultimately, the biggest takeaway that you should remember when helping your child overcome their fear of the dark is that reassurance and empathy are key. Dismissing your child's fears can make the problems even worse and prolong the time it takes to move past the fear. 
Listen to your child without playing into the fears. You might try to add a night light to your child's room. Security blankets, stuffed animals, or toys can also be helpful for comforting your child throughout the night.
If your child's fear of the dark seems to worsen, last for extended periods of time, or be so extreme that your child cannot sleep, you may want to consider talking to a pediatrician or a children's mental health professional. 
Post ID: Vv446Abp6
Category ID: x4bd732
The responses below are not provided, commissioned, reviewed, approved, or otherwise endorsed by any financial entity or advertiser. It is not the advertiser's responsibility to ensure all posts and/or questions are answered.